Coronavirus Meditations
#coronameditations
In April there will be several Corona Meditations.
The first is on Saturday, April 4th from 1:00 p.m. to 1:45 p.m. CEST (4:00 a.m. to 4:45 a.m. PST, 7:00 a.m. to 7:45 a.m. EST).
In April the angel number 444 plays a big role, date and time are aligned towards this. Since during the month other things also could be important, at the moment only the first, the second and the last date for the meditations are fix.
For the mediation please switch off your mobile phones and other electronic helpers; connect with nature and radiate Love and Light that is coming from your heart for the US, for the American continents, for Europe, and for the world; sunlight will also help and support. You may do anything you feel called to do, perhaps light candles and pray.
The second date is Sunday, April 5th; as we join the Unity Meditations of the the Global Community managed by Sandra Walter (see below), you may meditate at 5:11 a.m., 8.11 a.m., or 11:11 a.m. PST (8:11 a.m., 11:11 a.m., 2:11 p.m. EST; 2:11 p.m., 5:11 p.m., 8:11 p.m. CEST). Connect with nature AND with the Global Community, send out Love and Light.
The next meditation will be on April 27th from 1:00 p.m. to 1:45 p.m. CEST (4:00 a.m. to 4:45 a.m. PST, 7:00 a.m. to 7:45 a.m. EST).
In May, additional dates will follow.
If you have special experiences during these meditations, you are welcome to share them with me here.
---
GLOBAL Unity Meditations
#sundayglobalmeditations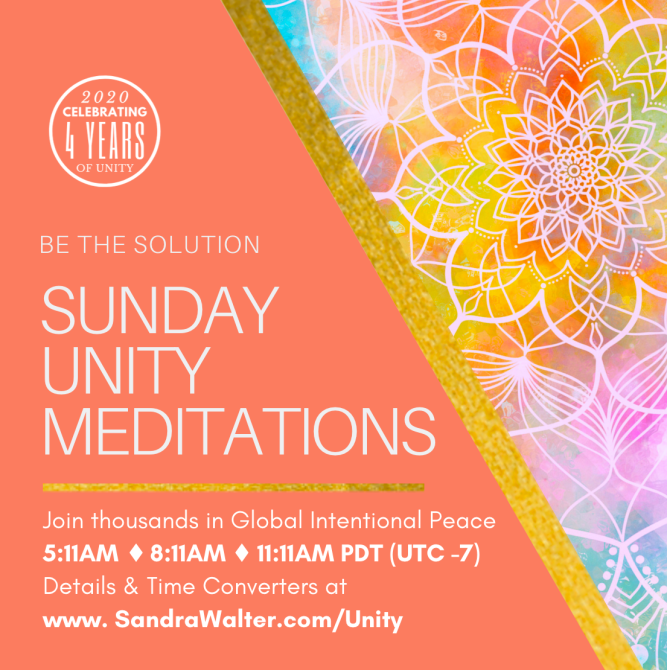 For detailed information please click here.
Note: If you reside in Europe, the times are at 14:11, 17:11, and 20:11 (from the second Sunday in March until second-last Sunday in March, and on the last Sunday in October the meditations are one hour earlier!).